Hope Mills Office
Serving the eye care needs of Hope Mills and the greater Fayetteville area since 1993.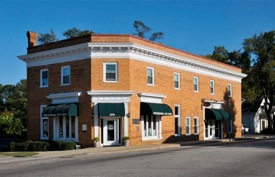 Professional Eye Care has been a leading provider of family optometry services and eye care products for Hope Mills and the surrounding area since 1993, and we want to help you achieve and maintain clear vision for years to come. Our experienced eye doctors offer comprehensive vision examinations at our Hope Mills optometry office and specialize in the diagnosis and treatment of a wide array of eye diseases, conditions, and problems. We use advanced diagnostic technology and vision correction products and are committed to improving the quality of life of persons in the Hope Mills community through enhanced vision. We're here for your eye care needs. Whether you're in need of eye exams or prescription eyewear, we are here to help.
Give yourself the gift of clear vision – contact Professional Eye Care today to schedule an appointment.
Dr. J. Eric Raynor

Dr. J. Eric Raynor opened his practice in Hope Mills in November 1993. He received a B.S. from Campbell University 1989. He received a Doctor of Optometry degree in 1993. He resides in Benson with his wife Susan and two children. They attend Benson United Methodist Church.

Dr. Robert Naylor

Dr. Robert Naylor who grew up in Clinton, N.C, has been practicing at Professional Eye Care since 2005. He attended N.C. State University where he graduated cum laude with a B.S. in Zoology. He went on to attend the Pennsylvania College of Optometry in Philadelphia where he underwent an extended externship at the Hefner VA Hospital in Salisbury, N.C, specializing in ocular disease and management. Dr. Naylor resides in the Fayetteville area and enjoys fishing and outdoor activities.

Dr. Joseph Ballard

Dr. Joseph Ballard joined Professional Eye Care in Hope Mills in September 2014. A native of the area, he graduated from Pine Forest High School in 2005. He then studied at the University of North Carolina at Pembroke where he received his Bachelor of Science degree in Biology in 2009. In 2010 he married his high school sweetheart, Ashley, before moving to Memphis, Tennessee to study optometry together. In 2014, they each received the degree of Doctor of Optometry. Happy to be living and working near where they grew up, they now reside on a farm in Linden, NC.

Dr. Mary Ann Masters

Dr. Masters joined Professional Eye Care in Hope Mills in December 2018. She graduated with honors from Southern College Of Optometry in 1982 after doing her undergraduate work at The University of North Carolina at Chapel Hill. Dr. Masters lives in Lumberton, NC with her husband, John D. Masters, a CPA and Partner with S. Preston Douglas & Associates, LLP.